Beside as a decorative on your desktop computer, wallpaper can sometimes grow a 'new spirit' when working on a computer. View a monotone (always equal) easily lead to saturation, so that sometimes we need to look new and fresh wallpapers. On the Internet we can get so much wallpaper.
Aside from being a search engine of articles or data on the website, google also provides facility search to search a picture. Although we could directly typing a keyword from the image we seek. But if we want to find wallpapers that fit and match the size of our computer screen (desktop), there are way better.
Here's how:
1. Go to
Google Images
2. Click the Advanced Image Search link (if Indonesian Advanced Image Search), which is on the right Search Images button.
3. Will perform the Advanced Image Search
4. In the first field, input the keyword of the desired image. Such as "Sky"
5. On the content types, content plih photo
6. Click Use my desktop size (meaning we mencar image in accordance with the size of our computer desktop)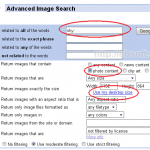 7. Click on Google Search, to start looking for an appropriate image.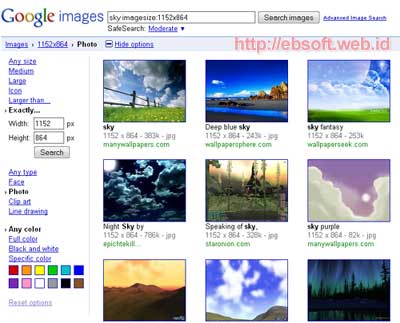 In the options that appear, we can also look for pictures with many options (settings), such as size, file type, color and more. If you want more quickly, can also directly type in a search on google Images for example: Sky imagesize: 1152x864 (to search for images / wallpaper with the keyword "sky" and the size is 1152 × 864 pixels).
Source: Wallpaper Search (ebsoft.web.id)
I hope this tips useful, Thanks for your visit :)