For those who are used in audio-video conversion, audio-video conversion possible in order to run on HP or Mobile Phone no problems. For those not, the following tips for easy conversion to be played at HP. Usually the format 3GP or 3g2.
SUPER conversion using a free program, because its features are abundant and supports many audio-video formats.
In early 2010, the Super 2010 version has been released. This new version includes some additional features and improvements v2009.build.36 (June 10, 2009) For those who do not have a SUPER program, can be downloaded from FileHippo
SUPER v2010 build 37
(27.57 MB). After the download, then install.
After the program SUPER-in installed, then the audio-video conversion process for HP's ready. Run the program SUPER. Furthermore, can follow these steps:
1. Insert the audio-video files you want converted, can use the shortcut Ctrl + A or right click and choose Add Multimedia File (s) or can also drag and drag files from Windows Explorer into the program SUPER.
2. Select 3GP format, and adjust with the HP brand is available (and then usually to 3GP for GSM and CDMA 3g2). If brands are not available, can be tried one by one
3. In order to better results, can be tried to enable "DirectShow Decode", it also provides a watermark feature (giving the writing on the video). To open this menu, after the DirectShow Decode menu on select (check), click the small icon beside.
It's just that not every PC can generate output if DirectShow is in select, depending on your computer supports DirectShow codex not. If not successful, then remove the check mark his course.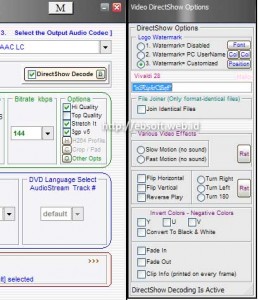 4. Ai video formats can be set and adjusted as we want. If you selected Disable Video, then the result is just out vote. For Video Scale size, adjust the screen size our HP. Frames / sec we can also customize, so smooth, usually 25 fps (PAL), the higher the file size is getting bigger.
5. For Options AUDIO, can be left alone, or if you want to be improved or reduced quality (sampling Freq and bitrate). Channel 1, means that mono and two stereo beararti.
6. To set the output location, right click and select the menu SUPER Output File Saving Management, that there is a red disk icon.
7th. After all is set, then the conversion process with the click of a button Encode (Active files).

Might have to try a few times with different options to produce the best desired output.
SUPER supports various input formats, either audio or video. For more SUPER features please visit the website of manufacturer erigSoft (ebsoft.web.id)
Download
SUPER v2010 build 37 (27.57 MB)
Hopefully this collection of computer tips useful ....